As delivered from Aston Martin in July 1952
Aston Martin DB2 Registation No. MYT 625
Chassis no LML/50/181 Engine no LB6B/50/590
Colour: Blue Haze (a very light blue) -
Resprayed Alpine Blue by Sept 1952
Trim: Blue with grey piping
The car was ordered by Mr CRC Hobbs of Palmers Green nr Guildford (perhaps that should be Kingswood, Green Lane, Bramley nr Guildford ?) & supplied on the 28.07.1952 from Brooklands, the local Aston Martin agents.
Obviously the colour didn't appeal to Mr Hobbs as it was resprayed less than 2 months later
It was back at the agents service dept or factory service dept in August 1952 for a lot of repairs for a new car.
Converted to Vantage specification by the 22.09.1952
(above from the service records)
It was sold to G.N. Burgess by HWM of Walton at Easter 1953 - from research carried out by Fred Tippetts in 1963, recent info 24/12/12
It's second owner was Mr Gerald (Gerry) Nutland Burgess of GB Cycle Company, Hanworth Park, Middlesex.
Gerry was born in 1920 in County Kildare, Ireland, he was a pre-war cycle champion who after the war, set up making bicycle components, hence the name GB Cycle Components, see some more on
GB Cycle Components
, also some period
catalogue & price lists
, they also made steel tube framed seats & furniture
He is seen here in the
Gallery
photo, on the right on the car, Ernest Juer is 2nd right.
The photo's in the
Gallery
are before the Alpine Rally, July 1953 - Marseille Harbour, all smiles.
A successful driver, 'Gerry' joined the BMC team in 1955 and drove for them in endurance events ( at least an Austin A90 on the Liege-Rome-Liege rally 1956 when he won part of the RAC Team prize & Austin-Healey 100 Six on the same event in 1958 where he was 10th overall, 2nd in class) when not required by Ford, for whom he was contracted, his co-driver from 1955 (at least) was Sam Croft-Pearson, they went on to win
the RAC Rally
in 1959 in a Ford Zephyr, Gerry set up his company Burgess Furniture in 1959 aswell.
MYT was fitted with works dual circuit braking system, Alfin brake drums, an extra fuel pump in the rear above the tank in June 1953 (invoiced July 1953), just before the Alpine Rally.
This photo is on the Startline.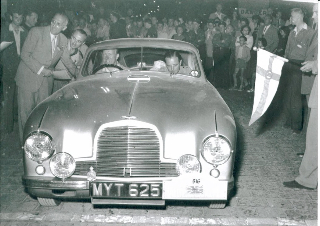 The car broke both of its alloy front road spring bracket early in the rally, the pair of brackets were then replaced by the service dept immediately after the event.
The Grill Badge that all entrants were given.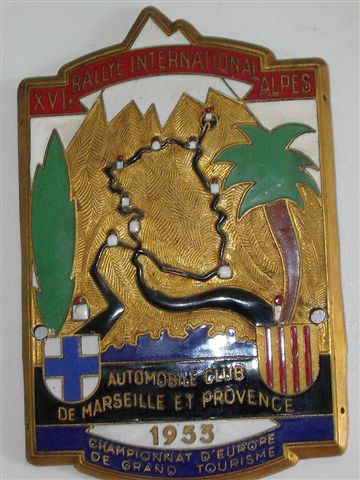 Gerry 'quickly sold it back to HWM of Walton' in Sept 1953 to quote his own words - research found out by Fred Tippetts, recent info 24/12/12
The car had 20+ shock absorbers by 1954.
Several clutches were also fitted along with several decokes, several engines, one rear axle with a 4.1:1 ratio, Weber carbs, twin exhaust all by 1956.

Its third owner was Futura Rubber Co of Stalybridge Cheshire which was owned by a 'soon to be' successful privateer racing driver (William) Alex McMillan, AMOC Member No. 843 & (we presume) his brother, Ernie.
Alex bought the car in 1953 or very early in 1954, he raced MYT at least 7 times - a race at an unknown circuit in January 1954, at a BARC Members Day at Goodwood in March 1954 in which he finished 4th on handicap, photo below.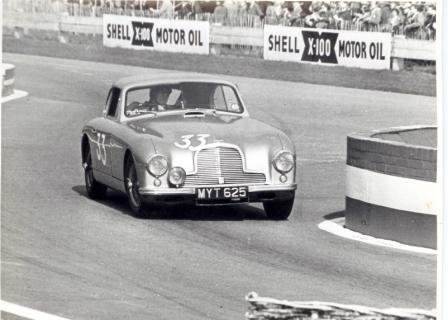 He competed twice in the car at AMOC Snetterton in April 1954, twice at Oulton in 1956 & maybe once again at Oulton in 1959 and several other places ? any help please would be appreciated

(Alex later bought the D T ype Jaguar XKD 517 TKF 9 and competed successfully in a great number of races, TKF 9 was later driven by the late, great Jim Clark)

Its fourth owner in around 1959 was a Mr N.Morrison of Dunstan Lane, Burton in Cheshire.

Its fifth owner around 1963 was Mr Tippets of Birmingham, Briony Serrell's (an active AMOC member who sprints her DB2/4 - 2010) father.

Its sixth owner was Mr Barry Roger Startin, also of Birmingham, around 1966 - may have been a motor trader.

The seventh owner was Barts of Birmingham (Bradburys Garage) Kings Heath, Birmingham, Aston Martin agents, around 1967.

The eighth owner was PJ Motors, Lozells, Birmingham, around 1967.

The ninth owner was Raymond Alan Hinton, Dudley, West Midlands, around 1968.

The tenth owner was Leslie Robert Short, Pelsall, Staffordshire, around 1968.

The eleventh owner was Derek Oades, Heybrook Bay, nr Plymouth, around 1969, Derek was a wheeler / dealer.

Its history between when 1st supplied & 1969 is being researched (Sept 2010)

ANY INFORMATION & HELP WOULD BE APPRECIATED

 

Bought by Four Ashes Garage of Four Ashes Road, Dorridge, Solihull, Warwickshire in the late summer of 1969 for the bonnet to rebuild Mike's DB2 DHC RBW 798 that had been crashed.

This involved a journey from Solihull to Heyward Bay nr Plymouth, an epic journey just to fetch it. see Collecting Her  

Bought by Mr Ian Stowe 1n 1982 - still run under the Four Ashes banner with a generous Mr Stowe footing some of the bills, but Four Ashes still picked up a fair few of them.!
Thank you very much Ian, with your financial assistance we won 2 Thoroughbred Championships, numerous race victories & Jean won several Ladies Sprint Trophies along the way.
 

It has been owned by Chris & Jean Moss - Adams since 2003, proprietors of Four Ashes Garage - Aston Martin Specialists.





from 20/09/10